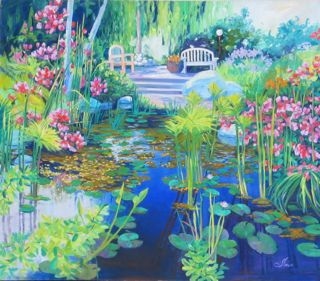 But For The Joy…
Spring is nearly here and Easter is just around the corner. It is my favorite time of year. As color blooms its way through the rain softened ground and emerges with new life, we can't help but sense the hope that springs forth with it. As our eyes behold the beauty that has been hidden for months, we realize just how dull things have looked for a while. But do we think about the struggle each plant went through just to make it into the light again?
Recently, while on my usual morning walk, something caught my eye. A tiny palm tree was growing through the black asphalt of our street. The little seedling was only three inches high. As impressive as its fortitude was, the shadow that it cast was even more interesting because of its shape – a cross. The irony struck immediately with clear meaning. This pint-sized plant seemed to forecast a reminder from the past. It stood proudly proclaiming the former glory of its use on a day of celebration – Palm Sunday and the Triumphal entry of the Messiah into Jerusalem. Its baby leaves stretched towards the sunlight like the loving arms of our Lord and their shadow predicting the coming crucifixion. It almost seemed that it was doing its best to compensate for the turn-about of events that occurred shortly after. What had begun with a joyous celebration and laying of palm branches as a carpet for the coming king had quickly turned to cursing, condemnation and hanging on a tree.
Seeing the enduring strength of this baby plant triumph over the stubborn hardness of asphalt spoke to my soul. Its victory over struggle, beautifully modeled the pain, suffering and resistance Jesus experienced even prior to the cross. The fresh purity of this infant tree reminded me that Jesus didn't have the most hospitable environment from the moment of His birth in a manger to his last days on earth.
Hundreds of years before Jesus came to earth, the prophet Isaiah foretold the messiah and his suffering. Isaiah 53 most amazingly prophesied the Messiah as one who "grew up before him like a tender shoot, and like a root out of dry ground. …He was despised and rejected by men, a man of sorrows, and familiar with suffering….Surely he took up our infirmities and carried our sorrows, yet we considered him stricken by God, smitten by him, and afflicted… But he was pierced for our transgressions, he was crushed for our iniquities; the punishment that brought us peace was upon him, and by his wounds we are healed."
The words of Isaiah prepare our hearts for all kinds of trials in life. They are God's amazing testimony to the foreshadowed plan of redemption that He knew must occur. When we read all of Isaiah 53 alongside the Easter story, it helps our eyes focus and our ears tune to any and all signs that He has prepared for us as reminders of His love and sacrifice. It may even be a tiny palm tree.
In celebration of Easter many of us will don new spring clothes as if joining nature in its re-birth. We'll sing praises to our Lord who demonstrated His holiness by rising from the grave. We can shout and sing for joy at this amazing miracle and its redemptive promise, but Hebrews 12:2 also reminds us to "fix our eyes on Jesus, …who for the joy set before him endured the cross…" Even Jesus needed to see beyond the immediate suffering and look to the joy that lay ahead.
If you find yourself going through a season of struggle, look to the victory that brings us hope and to the victor who brought it – Jesus.
THE GREATEST JOY By Iris Carignan
The greatest joy is to come alone,
To the Lord of Hosts,
Who removed the stone.
And the greatest peace can be found in prayer,
When you come to Him in Solitaire.
For He comes to those who abide in Him,
And He rolls the stone,
Away from sin!
Happy Easter to All!
I hope you will subscribe to my blog at the bottom of this post and also make a comment.