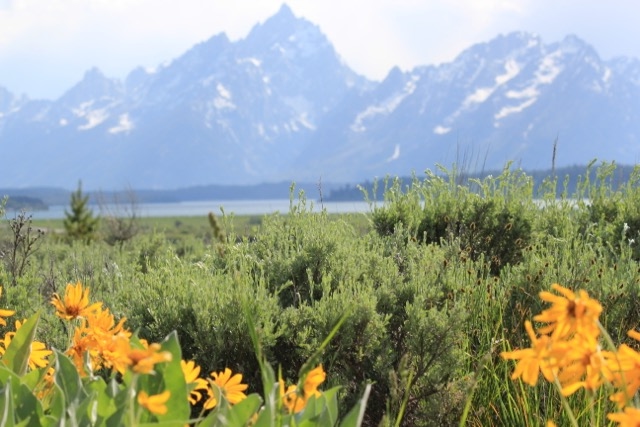 His Immeasurable Love
They call states like Montana and Wyoming God's country and fittingly so. After spending two weeks in Yellowstone and Glacier National Parks, my husband and I were awe-struck with the beauty God displays there. His creation wraps itself around every road's bend, spills down every waterfall into rivers and lakes below. The rivers rush onward aiming to quench its demanding and lush thirst to full satisfaction. This carpet of green is laid snug and held firmly with boulders and spiky pines that seem to nail it down purposefully.
The big sky above calls down to earth below with soft whispers of wind and clouded blues, cooling shadows and sunlit joy. As an ark for the wildlife, it encompasses every want and need they have. The google-eyed tourists trespass and disturb with frequent interference in this kind of Shang-re-la or land of Eden.
The mountains are God's most awesome and majestic diamonds on display. With every bend of the winding road ascending up these gargantuan creations, the mountains shine a new facet of God's amazing creative powers that are impossible to ignore. Romans 1:20 says it well: "For since the creation of the world, His invisible attributes are clearly seen, being understood by the things that are made, even His eternal power and Godhead, so that they are without excuse, because, although they knew God, they did not glorify Him as God, nor were thankful, but became futile in their thoughts…"
Stopping alongside the high road to see a grand view that seems to stretch on forever with amazing heights and depths, my breath is caught short. Gazing out to the expansive vistas, my heart cries out to Him with words that fall far short in astonishment. No stupefaction. He echoes back with His word: "And I pray that you, being rooted and established in love, may have power together with the saints to grasp how wide and long and high and deep is the love of Christ." (Ephesians 3:17, NIV).
His love truly is immeasurable and His creation illustrates it with such splendor.
Iris Carignan, July 2016