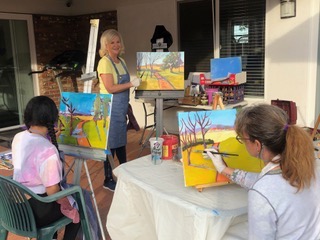 Painting a Picture of Hope
Beginnings— So important! How many of them do we get in life? For some it may feel like they've only had a few, at least when it comes to good beginnings. Or perhaps they had some good starts, but each time it felt that way, something pulled the rug out from under them and they either started all over again or gave up.
Recently I had the blessing of teaching an art class to a few ladies at a transitional home where many of the residents have had terrible beginnings in every way possible. Most have struggled through recent trials that brought homelessness. Whatever their case, these ladies are strong and courageous in so many ways and with the help of the wonderful people at Gabriel's House, they find strength, encouragement, help and hope for a better more stable beginning to life. So, teaching a few of them how to paint—though minuscule compared to the many hours of love and work the staff pours into them— was a blessing and a new beginning for me too.
Several months before I began the class, God had nudged me with a phrase I'd heard that caught my ear and heart—"you can't erase crayon". (You may have read my blog with that title a few months ago). When I got a call from my friend Yvonne Nobblit asking if I'd be interested in teaching an art class to some of the ladies at Gabriel's House, I was overjoyed with the opportunity to use my gifts for God's purposes. And with that call, I knew immediately why that phrase had caught my attention. It was because the phrase is such a profound metaphor for all the things that get colored into our hearts—good things and not so good things, colorful things and dark terrible things that don't go away. But it was especially about the things that can be embedded onto a young child's heart. Those things are hard to erase. They never go away.
I thought about how life is so like that at times. We may have some new colorful and joyful thing currently happening in our life, but the waxy injuries of some experiences stubbornly resist going away—refuse to be covered up or erased. No, they continue to bleed through even the brightest spots. And as an artist, I also knew that the waxy properties of crayon made it a medium that resists and repels just about any other kind of paint you try to put over it. It's much like so many people whose emotional and physical pain in childhood continues to plague their hearts and lives, repelling even the good things when they do come along.
Thankfully my life has mostly been beautiful and blessed, so, I wondered why I was still thinking about this paradox three weeks after hearing it? Why was a gal like me, (one with a relatively easy life compared to so many), still thinking about not being able to erase crayon? More importantly, was God placing it in my heart for His good purposes? I wondered. Then I got that call from Yvonne about teaching an art class at Gabriel's House and I knew.
I knew that maybe, just maybe, God wanted to use me to paint some new colors into the lives of women with waxy dark colors on their hearts.
So, knowing they couldn't afford to buy any art supplies, I began to gather some. I already had much of what I'd need and a couple of friends generously donated some paint and brushes too, but getting table easels was a challenge. An art store gave me a discount on a few supplies, but naturally didn't offer any easels. The cheapest they had were priced at nearly $90 and I needed four or five. I prayed about it asking who else I should approach for that need. Then God nudged me to ask a nice gal named Alisa who owns the Frame Gallery in Agoura. Since she sold to lots of artists like me, I thought maybe she might know an artist that had easels they aren't using anymore. Turns out she didn't, but she herself had a bunch of them that had been given to her about 10 years ago and she was happy to let me have them all for the class.
Isn't it amazing how God arranges things like that for us way-in-advance of when we need them? And as my Frame gallery friend, Alisa, said: "It was truly a God thing."
After a few delays in starting the class, the day finally arrived. Just 3 students out of the 5 we'd planned on, but I was excited. The following weeks brought a few stops and starts to attendance and we all learned a little about keeping their attention over the five-week period. For some it was about learning commitment, and some just needed to let themself learn without expecting perfection. For others, a job called them away from the fun— a good thing. One of the gals seemed to enjoy every minute of it and she and I became quick friends sharing the blessings of creative inspirations.
Using paintbrushes loaded with bright and beautiful colors—and sometimes a little too much paint— their attention to the picture they were painting became a new focus—a focus away from troubles. For a few hours on each of those Saturday afternoons, they began a new journey that had a new start on something that held promise.
But here's the most astonishing thing to me— when I chose the subject we'd paint, I truly hadn't considered the deep symbolism that would be created. Believe it or not, it wasn't until this very moment of writing this blog, 3/21/22, (two weeks after class ended), that it occurred to me how breathtakingly fitting that picture was for their lives. The picture I helped them paint was a scene of trees alongside a rugged road, with mountains in the distance. It was a clear metaphor that represented their lives. The deep purple and blue shadows that were cast across the road, were meaningful reminders of all the shadows on their rugged road through life, yet their dark contrast against the bright colors of the soft grasses in the foreground are beautiful brushstrokes of hope and promise. And the big mountains of trouble look small since they are in the distance and behind them now. And, ironically, until this moment I didn't know WHY, I had decided, for the first time in my 40 years of painting, that we'd paint it in a style similar to that of Vincent Van Gogh— an artist who we know struggled much in his life. But I'm pretty sure God knew why.
And much like learning to paint, creating a stable & happy life takes time, help from the Master Creator, help from the hands and feet of Jesus, and good tools. But mostly, it takes the promising hope of God's word painted over waxy sins with the crimson color of Jesus' sacrifice.  So, I pray that the time we had together painted some new and hopeful colors into their hearts. Bright colors that will last with brushstrokes that help bring a bright new beginning for those ladies. I know it did for me. 
Have you ever done something creative that was helpful to your emotions in a lasting and good way? Tell me about it in the comments here.
#iriscarignanbooks #stillwatersstudio #christianauthor #christianinspiration #childrensauthor #childrensauthorandillustrator #childrensillustrator #childrensbooks #childrensbookillustration #childrensbookillustrator #childrensbookart #childrensfictionbooks #moriahswingsbook #inspirationalpainter #christianpainter #christianartist #oilpainting #oilpastelpainting #impressionistpainter