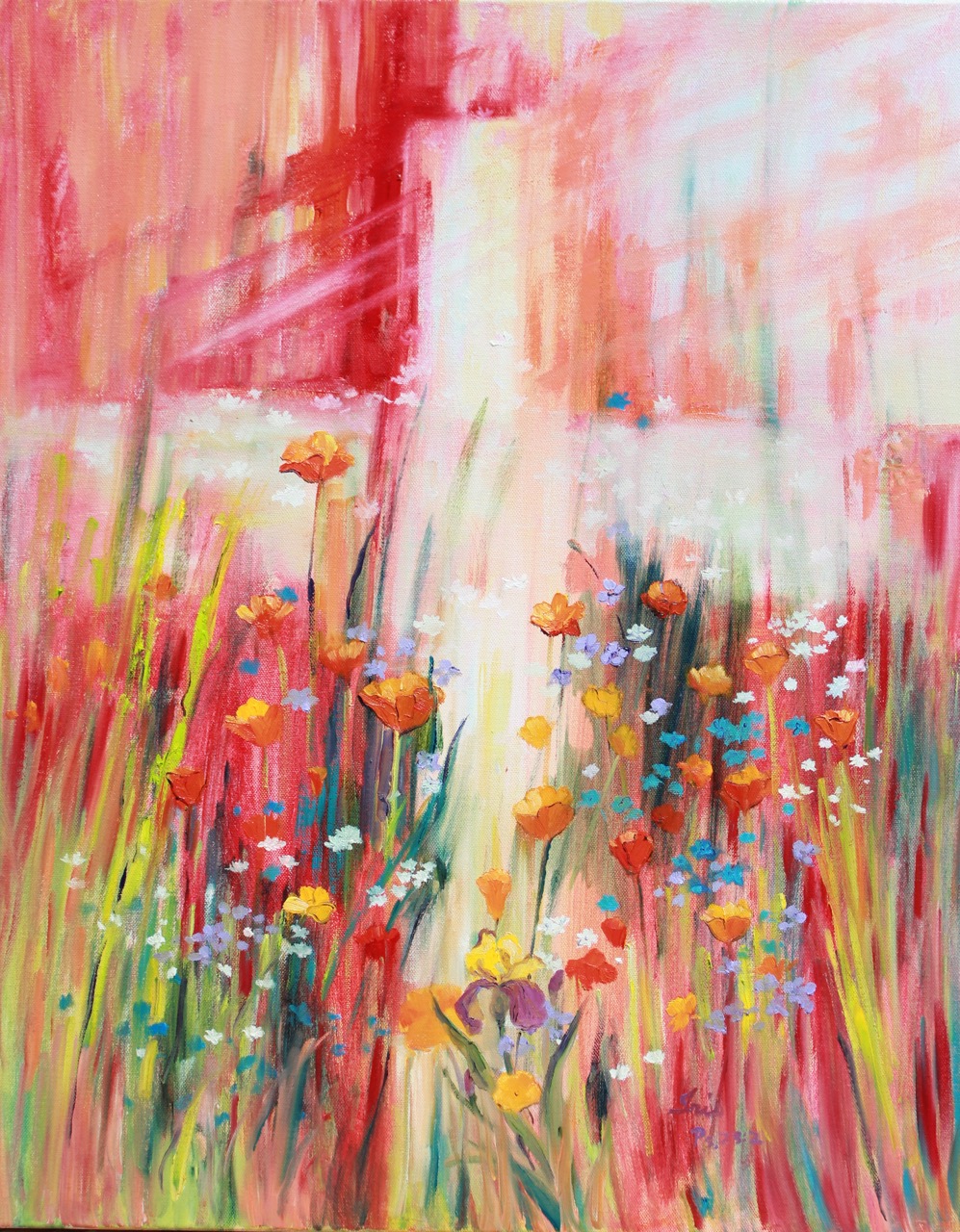 SPIRIT OF THE CROSS
Did you ever have a creative inspiration for something that is so clear and urgent you can hardly get to it fast enough? That's what I was sensing one Good Friday morning a few years ago. It was mostly an inkling of a picture in my mind at first, but there was an excitement brewing under the surface of a nudge inside of me. So, I began.
I started sketching it with loose strokes in pastel paint on paper first but quickly stopped. A sudden and sure confidence, for the image that I knew I was supposed to paint, had entered in. Grabbing a large canvas on hand, I switched the medium from pastel to oil and began laying in bright colors. A mood quickly spoke into the piece with joy that permeated my inner prompting. This was clearly going to be another one of a handful of paintings that were inspired by God.
Beginning at the top of the canvas I laid in some bright coral color and then streaked through it with a wide brush, loaded with white paint. Pulling the brushstrokes in a slanted angle downward, I created the effect of light shining on something. That "something" quickly took the form of a cross that was revealed with colors around every part of its shape. Instead of painting the cross, I painted the angles and soft lines of the outside of the form revealing the cross shape with the white of the canvas. I would paint the cross afterwards. It's what is called painting the negative shape. Then I lightly filled-in the color of the cross with a very pale shade of yellowish white giving the edges an impressionistic softness. I let the wet paint set a minute. It was about then when a special creative force took over. It's something that has happened to me only a few times in all the years of my painting.
It's hard to explain, but for a few rare instances, this has happened and when it does, I can barely keep up with what the Spirit is telling me to paint. Working as fast as I could, wasn't fast enough for the inspiration that was driving me. Each brushstroke seemed to direct me ahead of time as to what it would be and where it would go in the design. It seemed that the painting was directing me to do what it wanted to do. I started placing bright colored shapes in different sizes of pinks, reds, blues, and yellows all around the lower part of the canvas and up near the cross shape.
Before I knew it the 30" X 40" canvas was filled with a glorious image of a white cross, surrounded by an array of colorful tulips and daisies. I stood back and drank in the image, contemplating whether-or-not it needed something else. It took only a brief moment to know what to do next. I painted the cross with a sheer white paint on top of the semi-dry pale yellow, creating a translucent and almost ethereal effect. Then I put subtle little white flowers on top of the arms and center of the cross letting them overflow into the colorful pink, red, blue, and yellow flowers that surrounded it. But something was missing.
I stood back again and considered the overall balance, composition, colors and meaning that was before my eyes. With so many different flowers springing forth from my imagination onto the canvas, just one more was needed—an Iris flower. Adding a purple and yellow Iris, my namesake, I painted it in the only place it rightfully belonged—at the foot of the cross.
Standing back for my final critique, I raised my brush-filled-hands in praise to the one who inspired it, then contemplated what the title should be. Noting once more how the little white flowers seemingly flowed out of the cross, I felt the painting's message was that the spirit of the cross was becoming new life. Thus the title, "Spirit of the Cross"
Now, as another Easter draws near, I find myself thinking about what the image means to me and what the cross means to all who seek redemption. I pray that all of you will let God's Holy Spirit fill you with His light and life wherever you are in your journey of faith.
Please share your Easter praises in a comment on this page.
#iriscarignanbooks #stillwatersstudio #christianauthor #christianinspiration #childrensauthor #childrensillustrator #childrensbookillustrator #inspirationalpainter #christianpainter #christianartist #oilpainting #oilpastelpainting #impressionistpainter #fresheyesencounter #gabriels_house_tkc